Trochę się zdziwiłam.
Okazało się, że większość rzeczy, która wpadła mi ostatnio w ręce jest bardzo dobra. Wręcz martwiłam się, czy będę miała co skrytykować żeby utrzymać wiarygodność ;)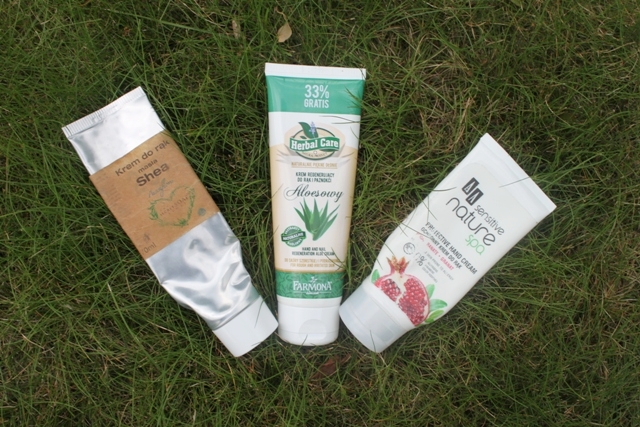 Zaczęło się od kremów do rąk, których nie ma na zdjęciu głównym. Kiedyś już pisałam o tym pierwszym z lewej strony. Wtedy jednak dowiedzieliście się jedynie, że…wykasowałam jego zdjęcie i nie mogę dojść do tego jak się nazywa. Jakimś cudem znalazłam go w domu i udało mi się zrobić zdjęcia prawie skończonego kremu. Produkuje go firma The secret soap store i nazywa się po prostu krem do rąk z masłem shea. Jest świetny i w zasadzie nie wymaga większego komentarza. Nawilża rewelacyjnie, idealnie się wchłania, pięknie pachnie i nie ma żadnych minusów. Dokładnie tak samo jak z kremem AA sensitive nature spa. Obydwa milion razy przebijają słynne kozie mleko z Ziaja. Ten środkowy – Herbal Care jest troszkę słabszy, ale być może to kwestia tego, że po prostu nie ma jakiegoś nieziemskiego zapachu jak dwa poprzednie i mnie nie powalił na kolana. Jeżeli chodzi o pielęgnacje to sprawdza się równie dobrze.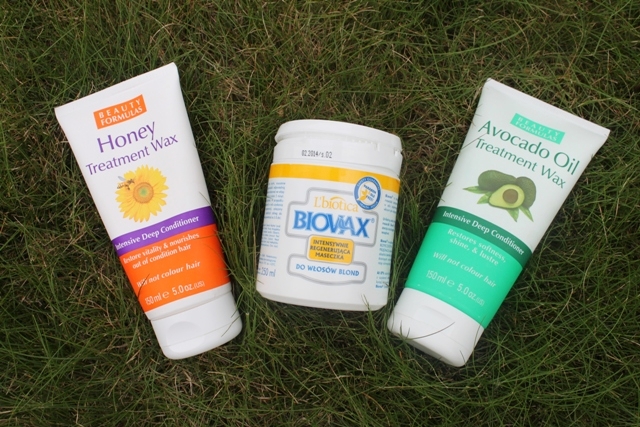 Nadal moimi ulubionymi kosmetykami są maski do włosów. Ta z lewej i z prawej strony różni się dla mnie tylko zapachem. Obydwie są tej samej firmy Treatment Wax i są GENIALNE. Naprawiają włosy w 10 minut. Nie żartuję. Niestety są mało wydajne – starczają na max 5-6 zastosowań. Natomiast na środkowa jest koszmarna. Nie zauważyłam po jej użyciu żadnej poprawy. Zero nawilżenia, wygładzenia, zero czegokolwiek. Nie sądziłam, że L'biotica może mnie tak negatywnie zaskoczyć, bo używałam ich produktów będąc brunetką i sprawdzały się. Jak widać mocno zmieniły się potrzeby moich włosów.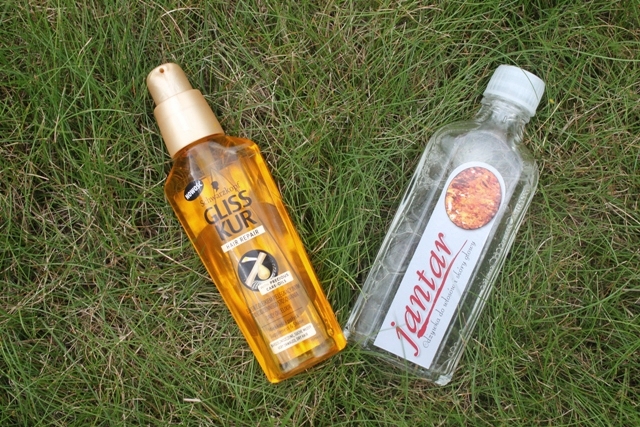 Zainwestowałam też w nowy jedwab do włosów i muszę przyznać, że Gliss Kur się sprawdza, a na dodatek jest baaaaartdzo wydajny, bo nałożenie powyżej dwóch kropli na włosy grozi efektem oleju na głowie. Polecam do wygładzania końcówek. Ciekawym produktem jest też odżywka do włosów i skóry głowy Jantar. To jeden z tych produktów, którego efekty są widoczne dopiero po kilku dniach regularnego stosowania, ale polecam to zrobić. Fajnie dba o kondycje włosów i bardzo dobrze je wzmacnia.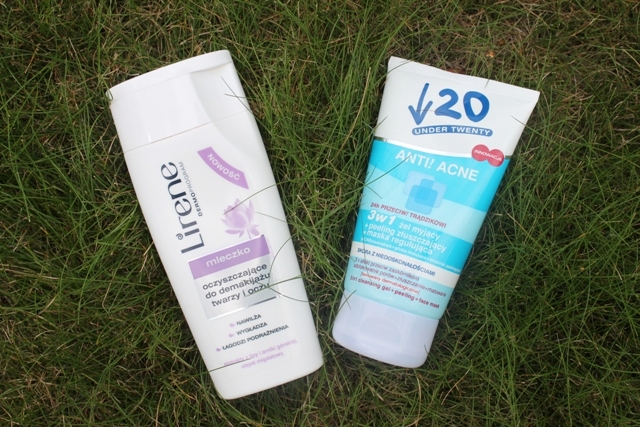 O pielęgnację mojej cery nadal dba głownie Lirene. I to już się robi nudne, bo kolejny raz muszę napisać jakie te kosmetyki są świetne bla, bla bla. Używałam miliona różnych mleczek do twarzy Lirene i żadnemu nie mam nic do zarzucenia. Nuda. Moja Mama od wielu lat nie używa produktów żadnej innej firmy i ma rację. Co ciekawe przekonałam się nawet do produktu typu 3 w 1. Ogólnie to nie jestem fanką takich rzeczy, bo wydaje mi się, że jak coś ma działać na kilka sposobów, to pewnie nie działa wcale. Zabrałam jednak Anti Acne ze sobą na wakacje i moooocno się zdziwiłam. Niby to jest produkt do cery trądzikowej, czyli nie do mojej (odpukać), ale ja nie miałam żadnego innego pod ręką, a potrzebowałam peelingu na wyjazd. Żel Under Twenty działa jako produkt co codziennego mycia twarzy, maska i peeling. Na początku się bałam jego mocnego tarcia w codziennej pielęgnacji, ale okazało się, że niczego złego mi nie zrobił. Po powrocie z wakacji używałam go zawsze wtedy, kiedy miałam mało czasu, a potrzebowałam zrobić peeling i maskę. Sprawdzał się bardzo dobrze. No i najważniejsze – branie ze sobą jednego zamiast trzech kosmetyków do letniej walizki jest szczęściem nie do opisania.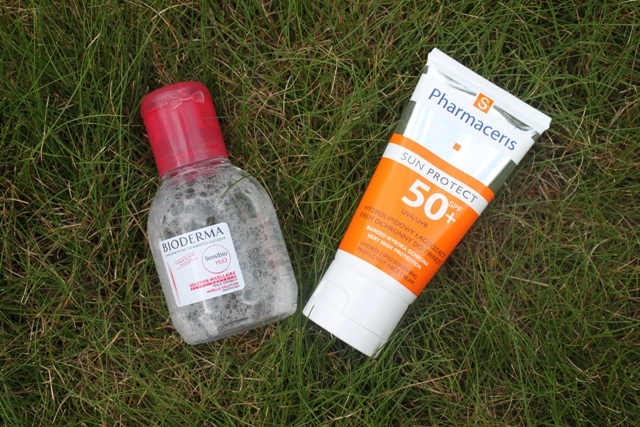 Ostatnie dwie rzeczy o których chciałam dziś napisać to płyn micelarny Bioderma. Pisałam już o tym na Facebooku – chyba najsłynniejszy płyn na świecie, a ja miałam okazję używać do pierwszy raz dopiero niedawno i nie zrobił na mnie żadnego wrażenia. Sopot Spa Ziaja działa na mnie tak samo. Prawdopodobnie jest tak jak pisałam na fejsie – wszystko jest kwestią skóry i każdemu pasuje co innego, inaczej nie miałoby sensu istnienie tylu firm kosmetycznych.
No i na koniec mały dowcip. Krem Pharmaceris Sun Protect 50+. Używałam do w lipcu (wiem, że mam refleks z recenzjami) w Paryżu żeby nie wrócić po tych moich całodniowych spacerach przypalona na twarzy. Sprawdził się idealnie. Nadal jestem cudownie blada. Wracając do dowcipu – jestem złośliwą blogerką i czasami podpytuję o coś znajomych nie mających pojęcia z jakimi firmami współpracuję. Nie mogłam nie wykorzystać okazji i kiedy ostatnio rozmawiałam z pewnym farmaceutą to zapytałam go jakiej firmy kremy przeciwsłoneczne by mi polecił. Again nuda. Wskazał Pharmaceris.
To oczywiście znowu jest 1/5 kosmetyków, które powinnam Wam opisać. Reszta sobie spokojnie czeka w kolejce. Planuję publikować taki zbiorczy post co miesiąc (może dwa w miesiącu). Od Was natomiast chętnie bym się dowiedziała jakie są hity i nowinki kosmetyczne tegorocznej jesieni, bo chyba kompletnie tego nie ogarniam. Help me!