Mąka i Woda – nowe miejsce z bardzo prostym i smacznym jedzeniem w centrum Warszawy.
Na Chmielnej od dawna brakowało fajnego miejsca na posiedzenie wieczorem przy dobrym jedzeniu. Niby tam jest lokal przy lokalu, ale tak naprawdę jakoś żaden mnie nigdy nie przyciągnął na więcej niż jeden raz (chyba, że gdzieś nie byłam – polecajcie).
Dlatego restauracja z neapolitańską pizzą w takiej lokalizacji ucieszyła mnie bardzo, chociaż skłamałabym gdybym powiedziała, że leciałam tam w podskokach. W szóstym miesiącu zimy trzeba było mnie tam wyciągnąć siłą, ale udało się (ostatecznie przekonał mnie argument o tym, że to jest niedopuszczalne żeby na blogu nie było notki o nowej pizzeri w centrum).
W czwartek wybrałam się więc z kumplem do Mąki i Wody na luch. To był ich pierwszy dzień lunchowy.
Godziny otwarcia
Mąka i Woda ma bardzo nietypowe jak na Warszawę godziny otwarcia. W tygodniu od 12 do 15 podają lunche, potem jest godzinna przerwa, a z normalnym menu działają od 16.00. Szczegóły znajdziecie na ich fejsie. Jeszcze nie do końca umiem ocenić czy jest to dobry pomysł. Brakowało mi faktycznie miejsca w centrum ze świetnym jedzeniem, które byłoby otwierane po 16.00, ale moim zdaniem powinno działać do ok 1.00 w nocy. Przynajmniej w weekendy. Tymczasem Mąka i Woda jest w piątki i soboty czynna jedynie do 23.00. Spytacie po co do 1.00? A o której godzinie wychodzicie w weekend z kina/koncertu/teatru i jak bardzo jesteście wtedy głodni? Chciałaby się gdzieś pójść, posiedzieć, dobrze zjeść, popić winem. I nie obić tego z zegarkiem w ręku, bo zaraz zamykają.
Składniki 
Przede wszystkim i trzeba to wyraźnie podkreślić – składniki są REWELACYJNE. Mąka i Woda chwali się, że ma włoską mąkę Caputo, San Marzano DOP oraz mozzarella di bufala Di Campania DOP. Nie wiem co to znaczy, ale ufam im, że sprowadzają najlepsze ;) Cała reszta to sezonowe produkty plus oczywiście pizza z pieca. Jest to bardzo wyczuwalne. Nie skłamię jeśli powiem, ze jadłam u nich najsmaczniejszy krem pomidorowy w życiu. Był PYSZNY.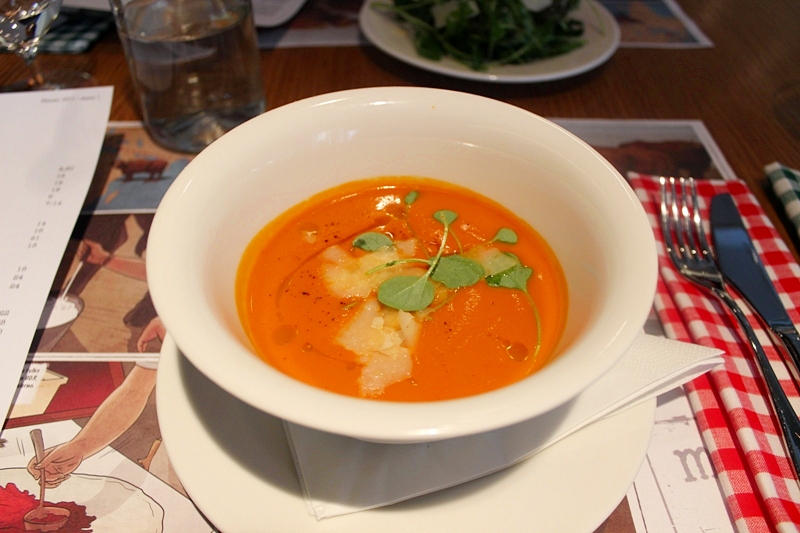 Mój kolega natomiast zachwycał się sałatką z rucoli. Podjadłam mu trochę i  faktycznie była świetna.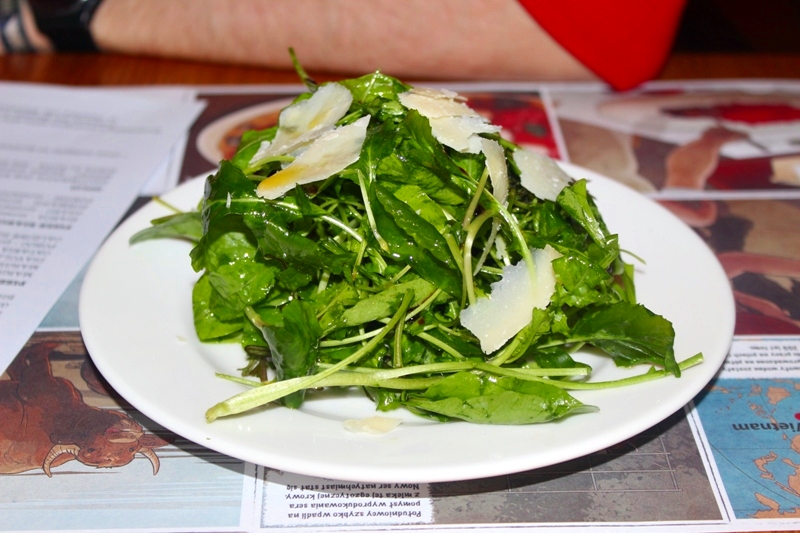 Pizza
Zamówiliśmy oczywiście margharite – była obłędna. Cieniutka z najlepszym na świecie sosem pomidorowym i idealną porcją sera. Powtarzam idealną. Spójrzcie na zdjęcie. Odrobina więcej sera to zło (pozdrawiam wszystkie polskie pizzerie pakujące tyle sera na pizzę, że aż mnie mdli). No i nie było czosnku!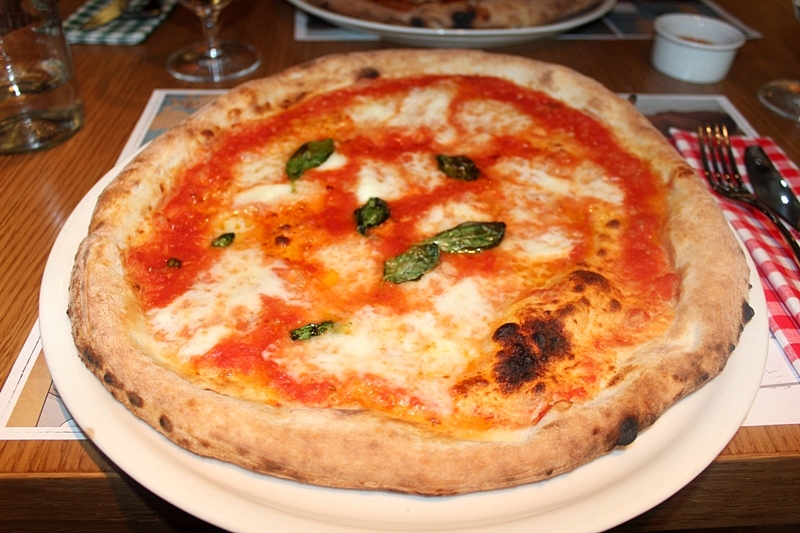 Zamówiliśmy też lunchowy odpowiednik margheritty czyli Sempize pizza z serem tallegio. Jadłam coś takiego po raz pierwszy, więc trudno mi się odnieść do tego jak to powinno smakować. Mój kolega uparcie twierdził, że jest lżejsza od mojej i wspaniale będzie się nadawać na lato. Ja niestety kocham margherite najbardziej na świecie i dla mnie ser tallegio był fajną opcją do spróbowanie, ale troszkę za ciężką jak na całą pizzę. Chociaż ser ciekawy.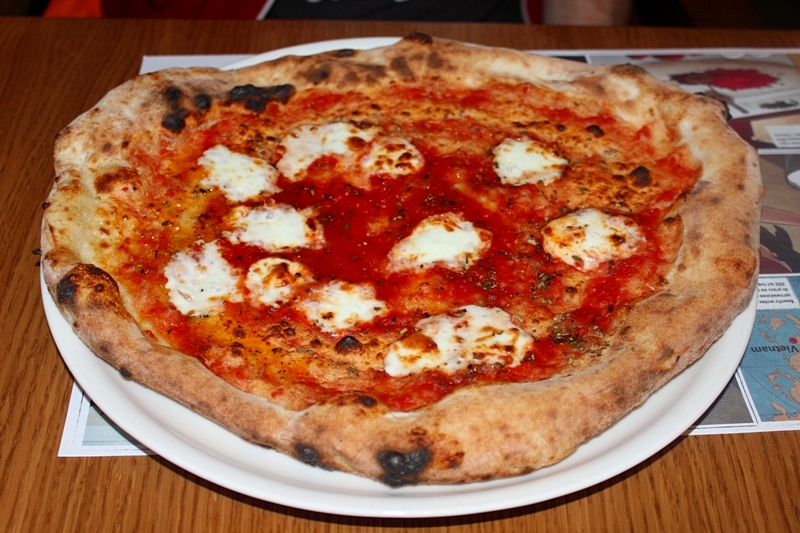 Ceny
Rozumiem zależność ceny od lokalizacji, więc trudno się czepiać tego, że pizza z bardzo dobrych składników w centrum miasta jest dla mnie o 4 zł za droga. Dlatego polecam przychodzić na luche – kosztują 25 zł (w tym od razu podawana do stolika woda – tak powinno być w każdej knajpie), a na specjalne okazje zostawić sobie czas na dłuższe i droższe posiedzenia po 16.00
Wystrój 
Największe wrażenie robi ogromny piec, więc polecam usiąść tak żeby go widzieć, a przy okazji podglądać kucharzy podczas pracy. Cała restauracja jest bardzo przestronna, w środku jest dużo miejsc, więc raczej o brak wolnego stolika nie trzeba się martwić. Na stołach są papierowe ( <3 ) obrusy – komiksy nawiązujące do dbałości o jakość składników w Mące i Wodzie. Szkoda trochę tylko, że nikt nie zdecydował się na pójście w trochę bardziej tradycyjne włoskie klimaty. Ja jednak lubię takie nie do końca wymuskane knajpki z pizzą. Sentymenty.
Ale bardzo duży plus za miłą obsługę. Na dodatek jakoś tak naturalnie miłą. Tylko te koszulki im średnio pasują, bo wygląda to na sieciówkę (chyba, że ma być w przyszłości?)
Czy warto?
Oczywiście, że tak! Bardzo podoba mi się pójście w małą ilość dań i powtarzające się składniki, ale za to perfekcyjnej jakości. Myślę, ze dużo innych knajp powinno się tego od Mąki i Wody nauczyć. Bo nie o to chodzi, żeby menu miało 100 pozycji, ale żeby były smaczne. Ja na pewno wpadnę tam jeszcze kiedyś wieczorem, bo bardzo korci mnie spróbowanie przystawek i deserów (tak, w takich miejscach jadam słodycze).
Mąka i Woda, Chmielna 13A, Warszawa