Często pytacie mnie o to kiedy w całości zaprezentuję swój codzienny makijaż. Do tej pory nie miałam czasu, ale na szczęście posiedziałam trochę w domu i święta i sekundka wolnego się znalazła.
Jak już wiecie dla mnie w makijażu liczy się ilość. Musimy pamiętać żeby nałożyć na siebie jak najwięcej kosmetyków. Naturalność? Naturalność jest dobra w przedszkolu. Potem każda prawdziwa kobieta MUSI pozmieniać swoje rysy twarzy przy pomocy konturowania, mocnych podkreśleń brwi, podkładu przynajmniej trzy tony ciemniejszego (mam nadzieję, że nie dałyście sobie wmówić tych bzdur o dopasowywaniu odcienia podkładu na policzku? Warto wiedzieć, że lepiej dopasować go do brązowych mebli w salonie, żeby odpowiednio komponować się z tłem podczas świątecznych obiadów i romantycznych kolacji) oraz kolorowych cieni do powiek.
Pamiętajmy! Jesteśmy brzydkie! Wymalujmy się więc najbardziej jak się da, to może uda się kogoś poderwać! Czerwona szminka, smuki ajs i dużo bronzera na pewno sprawią, że ten przystojniak z klatki obok omiecie nas swoim spojrzeniem.
Ja robię to tak: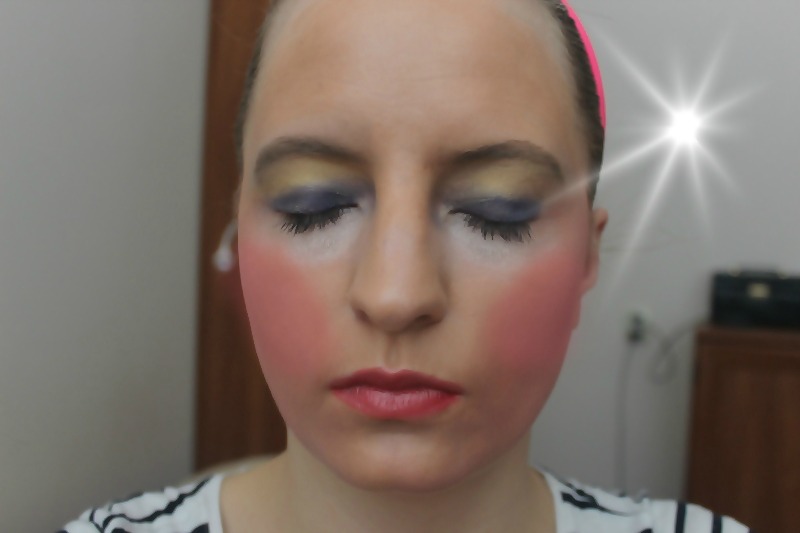 Na zdjęciu widać, że moim ulubionym trendem w codziennym makijażu jest dolna powieka w stylu Edyty Górniak. Biały kawałek skóry wcale nie wygląda dziwnie,kiedy cała reszta jest brązowa. Jeżeli wydaje Ci się, że jest to trochę nienaturalne – mam dla Ciebie radę – spróbuj przez pierwsze 3 miesiące nakładać sobie 12 warstw rozświetlacza pod oko. Po takim czasie powinnaś się już przyzwyczaić i 8 nie powinno stanowić problemu.
Jedyny problem jaki mam z tym mejkapem to usta. Nie sądzicie, że za słabo je podkreśliłam? Skończyła mi się śliwkowa pomadka i musiałam ratować się ekstraktem z buraka, ale nie do końca jestem zadowolona z efektu. Poradzilibyście mi coś innego?
ps. Ten post to oczywiście żart ;) Spójrzcie na datę.