Wasza dzisiejsza dyskusja o sushi na Facebooku sprowokowała mnie do napisania notki.
Informacja dla osób, które przegapiły wpis na Facebooku:
Byłam bardzo głodna i coś mnie tknęło żeby nie iść do SAMA, ale do knajpy obok. Na Restaurantica ją rekomendowali, więc weszłam, a w środku z kelnerem (wyglądającego na kelnera, który właśnie zwolnił się z Charlotte), odbywałam następujący dialog:
– Dzień dobry, jestem bardzo głodna, proszę mi polecić coś wegetariańskiego.
– To może kalmary?
Moje życie bez mięsa i ryb
Sprawa wygląda tak. Nie jestem mięsa od ponad 10 lat. Głównie z tego powodu, że mi nie smakuje. Wydaje mi się po prostu obślizgłe. Tak samo mam z rybami. Oczywiście jest tam w tym jakiś pierwiastek tego, że biedne zwierzątka i jak mogę wziąć do ust, coś co wcześniej żyło, ale bez przesady. Buty ze skóry noszę. Trudno nosić nieskórzane buty zimą, chyba że ktoś ma czas kupować nowe co dwa tygodnie. Tak, tak wiem, są jeszcze kalosze i inne materiały. Tyle, że w moim niejedzeniu mięsa nie ma żadnej ideologii. Ja go po prostu nie lubię, a po 10 latach to już się odzwyczaiłam.
Nigdy w życiu, w żadnej sposób nie skomentowałam tego, ze ktoś z moich znajomych je mięso. Nigdy nie namawiałam nikogo do przejścia na wegetarianizm, generalnie bardzo jestem daleka od męczenia tym ludzi. Na domówkach nie robię problemów – jem chipsy i kanapki z serem.  Milion razy zjadłam sałatkę grecką, bo poszłam do knajpy, w której było to jedyne wegetariańskie jedzenie, a przecież nie będę ciągać całej grupy znajomych do vege baru. Może kilka razy w kręgu bardzo bliskich znajomych, marudziłam, że nie chcę iść gdzieś tam, bo wolę iść gdzie indziej, ale ustalmy, że większość takich przypadków, to była ukryta próba znalezienia lokalu z pizzą.
Sushi
Przechodząc do suhi. Miałam kiedyś ostrą fazę na sushi i regularnie chodziłam na wegetariańskie. Nigdy nie było z tym problemu. I nie uważam, żeby to było śmieszne, że wchodzę do restauracji z sushi i pytam czy jest jakieś bez ryby. Przecież nie powiem grupie znajomych, która chce iść na sushi, że nie pójdziemy, bo ja jedna na pięć osób nie jem ryby. Po prostu, wchodzę i pytam czy mogą zrobić z awocado.
Inne knajpy
Jednak śmiesznie to jest dopiero w innych knajpach. Na moje stałe pytanie "co mają państwo wegetariańskiego " uzyskuję dwie odpowiedzi:
1. tuńczyka / łososia
2. sałatkę
Ad1. Szybciej przestawię się na pytanie "co mają państwo bez mięsa i bez ryby?" niż kelnerzy nauczą się, ze wegetariańskie danie to nie jest danie z rybą.
Ad2. Moja lektorka angielskiego też jest wegetarianką. I ma na to jedną odpowiedź. Sałatka to nie  jest jedzenie.
Aż tak ostro bym tego nie potraktowała, ale coś w tym jest. Wyobraźcie sobie, że wchodzicie WYGŁODZENI do knajpy, a oni proponują Wam dużo sałaty lodowej, trochę innych warzyw i trzy mini (!!!) kromki bagietki. No, nie da się tym najeść. W ogóle to apeluję z tego miejsca o podawanie duuużej ilości dobrego pieczywa do sałatek. To tanie, proste i szybkie rozwiązanie problemu z wegetarianami. Zjemy coś zdrowego, dopchamy się pieczywem i tyle. Przecież nikt nie stołuje się na mieście trzy razy dziennie, żeby nie uzupełnić potem diety w coś innego.
BY the WAY BOTEGAkulinarna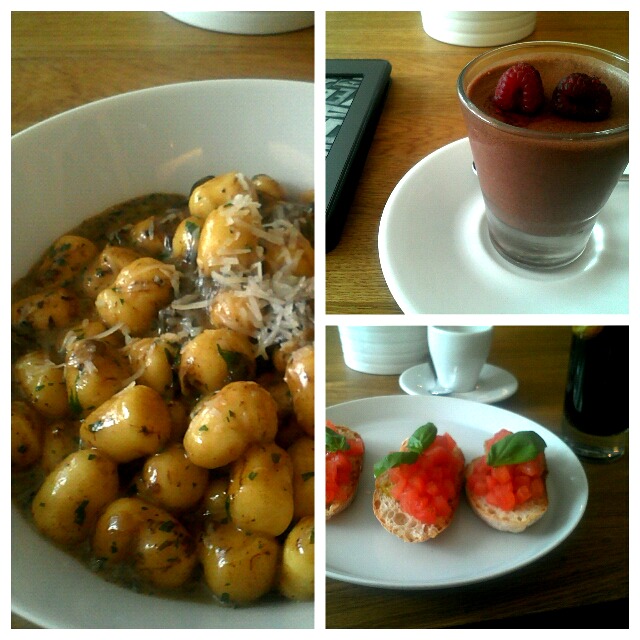 Aaa, wracając do miejsca, w którym jadłam. Jedzenie bardzo dobre. Bruschetta na pysznym pieczywie….ale makaron to dopiero była zabawa. Tak się zakręciłam w te kalmary, że z wrażenia zamówiłam makaron z borowikami…chociaż nie cierpię grzybów :D Był pyszny – może jak dla osoby, która grzyba jadła ostatnio pięć lat temu, to trochę za dużo sosu, ale gnochhi genialne. I nawet mieli takie malutkie musy czekoladowe – świetny deser dla kogoś, kto nie znosi słodyczy, ale jak na wystawce stoi mus czekoladowy, to go zamawia, bo ładnie wygląda. Wielki plus za to, że nie był bardzo słodki. Poza tym przyjemny, niezobowiązujący wystrój i fajna muzyka w tle.
To tyle chciałam powiedzieć. Pointy nie ma, możecie sami dopisac ;)
Pozdrowienia znad kalafiora :)