Mój brak miłości do jedzenia słodyczy realizuje się w miłości do Lush.
Tę notkę piszę już od lipca…już wtedy, w Budapeszcie wydałam przerażająco dużo pieniędzy w Lush. Myślałam, że to dlatego, że byłam tam pierwszy raz. A w tym sklepie można zgłupieć (ale niestety nie można robić w nim zdjęć). Pachnie tam przepięknie, a kosmetyki wyglądają zjawiskowo. Pamiętam, że przez pierwsze kilka minut tylko kręciłam się dookoła jak głupia i nie wiedziałam od czego zacząć.
Od lipca zdążyłam już być w Lush w Paryżu oraz ściągnąć jedną przesyłkę z UK. No, niestety…nie mogłam się oprzeć. I coś czuję, że czeka mnie kolejne zamówienie.
O co chodzi z tymi kosmetykami?
Poza tym, że wyglądają i pachną najpiękniej na świecie, to naprawdę działają. Działają i to jak! Gdyby nie fakt, że mają bardzo krótki termin ważności (wynika to z tego, że są mega naturalne) i są zwyczajnie drogie, to robiłabym tam zakupy co tydzień.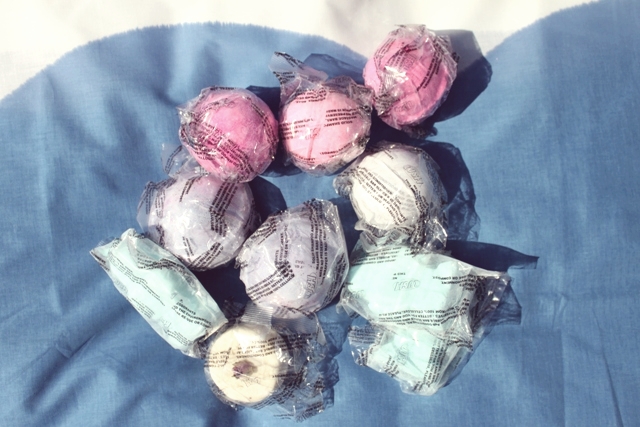 Na przykład takie kule do kąpieli (sorry za zdjęcia w folii, ale rozpakowanie tego wszystkiego skończyłoby się tym, że prędzej czy później bym to wszystko rozsypała). Do tej pory myślałam, że kule do kąpieli, to po prostu fajna zabawka i nic poza tym. Okazało się jednak, że kule Lush mają cudowne właściwości pielęgnacyjne. Nawilżają i w sekundę (no dobrze, w 10 minut) walczą z suchością skóry, podczas kiedy my po prostu leżymy w wannie.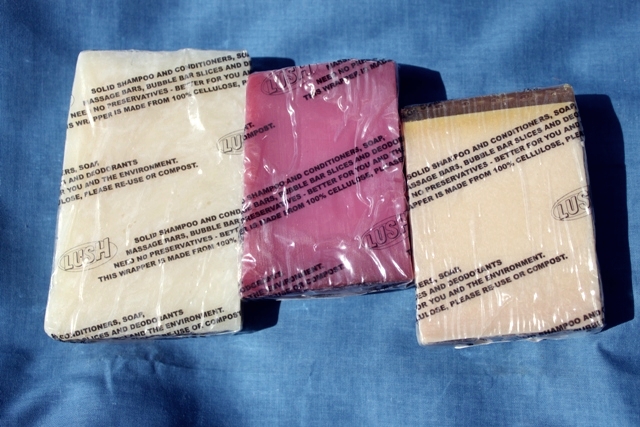 Mydła pachną tak abstrakcyjnie, że nie radzę używać ich rano pod prysznicem, bo spóźnicie się do pracy.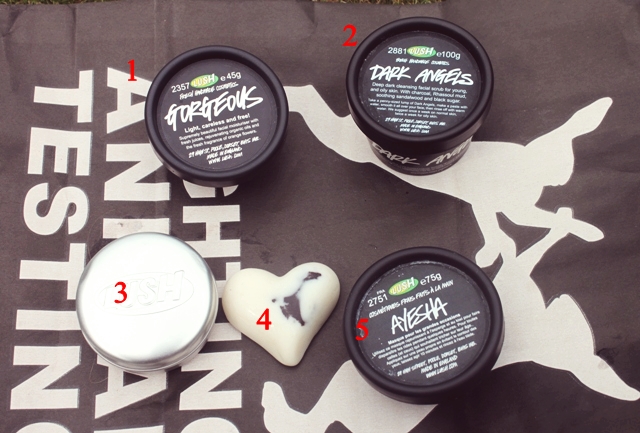 1,2,5 -produkty do twarzy moje nawieksze faworyty
Dark Anglels (2) – to jesy taki peeling jakiego na polskim rynku nie ma. To, co on robi z twarzą jest nieopisywalne. Wyobraźcie sobie, że wyglądacie jak ziemniak. Stary, zeschnięty ziemniak. Sięgacie po Dark Angles, peelingujecie chwilę i…wyglądacie jak milion dolarów. Serio. On odświeża, oczyszcza, dodaje blasku, regeneruje, działa jak Photoshop.  Jestem (niestety dla mojego portfela) przekonana, że będę zamawiać go do końca życia.
Ayesha (5) – cudowna, świeża maseczka z witaminą C. Genialne rozwiązane na tę chwilę, kiedy nie możemy bawić się dark Angels (umówmy się – zmywanie czarnego jak smoła peelingu trochę trwa), bo akurat jednocześnie odświeżamy twarz i malujemy paznokcie. Buzia niemowlaka gwarantowana.
Gogreous (1) – ten krem, to moje największe cierpienie. Jest drogi jak diabli i równie dobry. Wiem, że kupienie go było jednorazowym wybrykiem i zaraz mi się skończy, ale musicie mi uwierzyć na słowo – on działa sam w sobie jak gumka ścierająca wszystkie wybryki naszej cery. A podkład nałożony na niego, nawet po nieprzespanej nocy, daje efekt świeżej i wypoczętej twarzy.
Ultimate Shine (3) – szampon w kostce. Coś takiego powinno być sprzedawane na każdym lotnisku. Genialny w przewożeniu, prosty w użyciu, świetny w efekcie (idę się zatrudnić w agencji reklamowej po tym poście).
Soft Coeur (4) – kolejny hit na podróże. Kostka do masażu, której ja używam jako balsamu. Roztapia się na skórze pod wpływem ciepła. Pachnie nieziemską czekoladą i świetnie nawilża.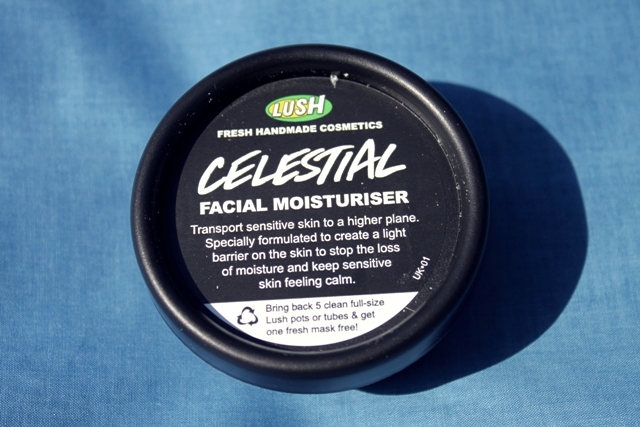 Celestial – świetny codzienny krem nawilżający. Kupowałam go z myślą, że zastąpi mi Gorgeous, ale niestety – aż tak cudowny nie jest. Natomiast jako krem pod codzienny makijaż, to jest naprawdę świetny. Podkład rozprowadza się po nim jak po najlepszej bazie.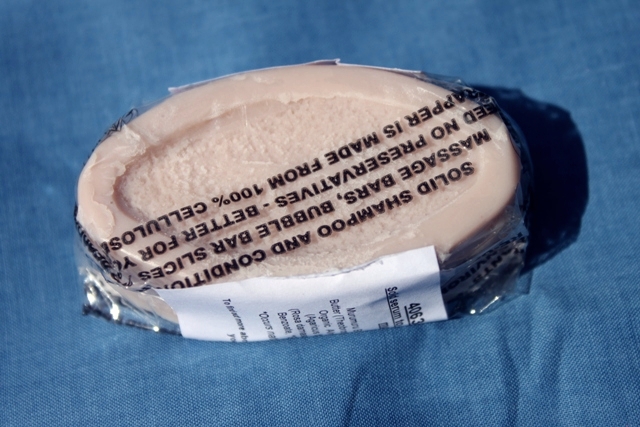 Full of Grace – ten produkt tylko wygląda na duży. Poważnie to jest bardzo wydają miniaturką, mieszczącą się w dłoni. Jest dość tłusty i raczej nie polecam używać go codziennie, bo może ostro zapchać. Natomiast w jedną noc ratuję skórę z wielkiego przesuszenia.  Ja stosuję go raz na tydzień, dwa kiedy po prostu czuję, że jesień mi nie sprzyja i moja skóra jest ściągnięta.
I to by było na tyle z mojej dotychczasowej przygody z Lushem. Mój portfel mówi mi, żebym nie zadawała tego pytania, ale trudno muszę…co polecacie z tego sklepu?
ps. I czy ktoś wie, co w końcu z tym otwarciem Lush w Polsce?
ps. Przypominam, że dziś jest ostatni dzień konkursu z By Insomnia ;)