Jak na spektakl to bardzo dobre. Jak na reżysera to złe. 
Taka była moja pierwsza myśl, kiedy wczoraj wyszłam z prapremiery "Ożenku" w Teatrze Studio. Czy na pewno słuszna?
O moim uwielbieniu dla Wyrypajewa pisałam już tutaj. Czyżby każdy mógł mieć spadek formy?
"Ożenek" to jeden z najsłynniejszy tekstów Nikołaja Gogola. W Polsce traktowany raczej jak komedia, w Rosji jest bardziej mitycznym śmiechem przez łzy. Nie będę Wam tu streszczać o co chodzi, bo jeśli ktoś nie czytał dramatu to może nie chce znać akcji. W każdym razie Wyrypajew, którego znamy do tej pory głownie z reżyserowania własnych tekstów, zabrał się za klasykę. I zrobił to perfekcyjnie. Problem polega na tym, że  mi najzwyczajniej w świecie nie podoba się sama akcja. No trudno, muszę z tym żyć. Gogol do mnie nie przemawia na poziomie opowiadania historii. Nie wnikając w metaforykę spektaklu, po prostu nudzi mnie fabuła "Ożenku". Nie sens, nie przesłanie, ale czysta opowieść. I o losie, jak dobrze, że jestem blogerem, a nie recenzentem teatralnym (miałam kiedyś takie plany) i mogę to sobie swobodnie napisać ;)
Wracając do tematu. Dlatego pomyślałam o tym, że jak na Wyrypajewa to złe. Bo "Tlenem", "Lipcem" i "Tańcem Delhi" mnie zaskoczył, a tutaj mnie prawie uśpił. A trzeba przyznać, że był to sen najwyższej jakości, bo tak świetnych rozwiązań teatralnych dawno nie widziałam.
Dlatego poprawiam się i piszę – jak na historię to nudne, jak na spektakl to bardzo dobre.
Gogol widziany oczami Wyrypajewa to perfekcyjnie dopracowana gra szczegółów.
Jestem absolutną fanką burzenia przez reżysera czwartej ściany w teatrze (czyli aktor gra do widowni, a nie udaje, że jej tam nie ma). Bez dwóch zdań jest to jedno z lepszych rozwiązań teatralnych jakie może się przydarzyć i Wyrypajew stosuje je perfekcyjnie. Ma świetnych aktorów – jak zwykle cudowną Gruszkę i ciągle niedocenianego Marcina Bosaka, rewelacyjnego (i zaskakującego!) Mirosława Zbrojewicza oraz absolutnie świeżego i cudownego Radosława Walendę. Reżyser wymaga od aktorów BARDZO DUŻO, a oni wspaniale dają sobie z tym radę. Spektakl ma kilka naprawdę popisowych aktorsko momentów i czasami nie można się pozbyć wrażenia, że większość znanych nam serialowych aktorzyn nie dałaby rady zrobić nawet połowy tego, co dzieje się na scenie dzięki gestom, ruchowi i intonacji.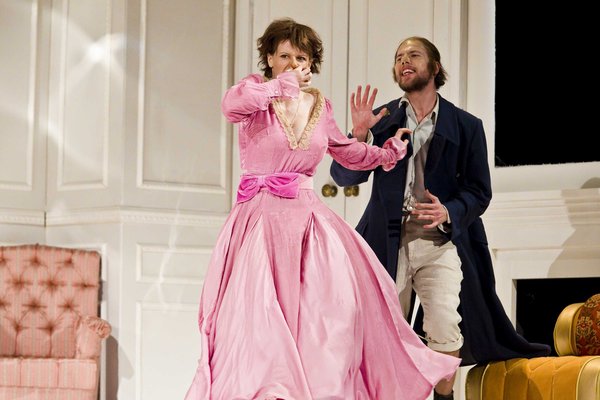 Bo o ile ostatnio pisałam głownie o tym jaki świetny słuch ma Wyrypajew, tak teraz trzeba zwrócić uwagę, że ma równie zręczne oko. Podobnie ciekawego gestu i ruchu scenicznego dawno w teatrze nie widziałam. Zwłaszcza, że całość podkreślona jest wspaniale wpisującymi się w konwencję kostiumami Katarzyny Lewińskiej. Nie można również zapomnieć o przepięknej roli chóru.
Ponieważ wiem, że czyta mnie kilka osób lubiących Wyrypajewa, to donoszę, że zdziwicie się, ale musicie to zobaczyć. Całej reszcie rzeknę tylko – jeżeli na co dzień zmagacie się z udawaniem rzeczywistości w "Na Wspólnej", to pójdźcie i zobaczcie, że aktor to nie tylko człowiek, który umie zręcznie nalewać herbatę, jednocześnie zwracając się do swojej partnerki słowami: "Musimy porozmawiać".
| Daty najbliższych spektakli macie tutaj. | Z tej strony podwędziłam też zdjęcie aktorów autorstwa Krzysztofa Bielińskiego. |