-Haha, na Zemstę idziesz? Już nie masz na co chodzić do teatru – powiedziała moja koleżanka usłyszawszy jak planuję spędzić niedzielne popołudnie.
Tylko, że to nie była taka zwyczajna Zemsta.
Rozumiem ironię koleżanki, bo zapewne skojarzyła to z fatalnym, granym dla uratowania budżetu teatru, spektaklem. No bo kiedy się idzie do teatru na Zemstę? Wtedy kiedy się ją w szkole omawia i trzeba zrobić coś dodatkowego z klasą żeby zapulsować u dyrektora. Więc zabiera się dzieci do teatru, które strasznie cierpią, że muszą tam iść wieczorem i nie stracą jednak w tym tygodniu jednej lekcji historii.
Tym razem nic z tych rzeczy. Tzn. zakładam, że szkoły będą na to chodzić. I budżet też będzie miał się dobrze (ale ja akurat nie mam nic przeciwko graniu spektakli, które zarabiają na inne spektakle – wręcz popieram ten model biznesowy). Ale na pewno nie jest to spektakl fatalny i dzieci (to już jest młodzież chyba – Zemstę nadal omawia się w I gimnazjum?) powinny spokojnie przeżyć, to że pójdą na tę historię w ciągu dnia.
Nie wiem jakie było założenie twórców spektaklu, poza wystawieniem Zemsty z okazji 220 rocznicy urodzin Aleksandra Fredry, ale po tym co zobaczyłam mogę zgadywać, że zależało im na zrobieniu spektaklu lekkiego i łatwego w odbiorze (nie mylić mi tu z pójściem na łatwiznę, bo nie o to chodzi), który będzie się przyjemnie oglądało. Nawet widz, który nie bywa regularnie w teatrze, będzie bawił się doskonale, a przy okazji dostanie porządną dawkę rewelacyjnego aktorstwa.
Bezkonkurencyjny jest oczywiście Jarosław Gajewski. Szerszej publiczności telewizyjnej zupełnie nieznany, za to każdy kto chodzi do teatru może chyba powiedzieć, że kiedy widzi Gajewskiego w obsadzie to oddycha z ulgą, że nawet gdyby cały spektakl był tragiczny (a nie był) to na Gajewskiego będzie można popatrzeć. I ja tym razem się nie zawiodłam – jego Papkin to oczywiście mistrzostwo świata.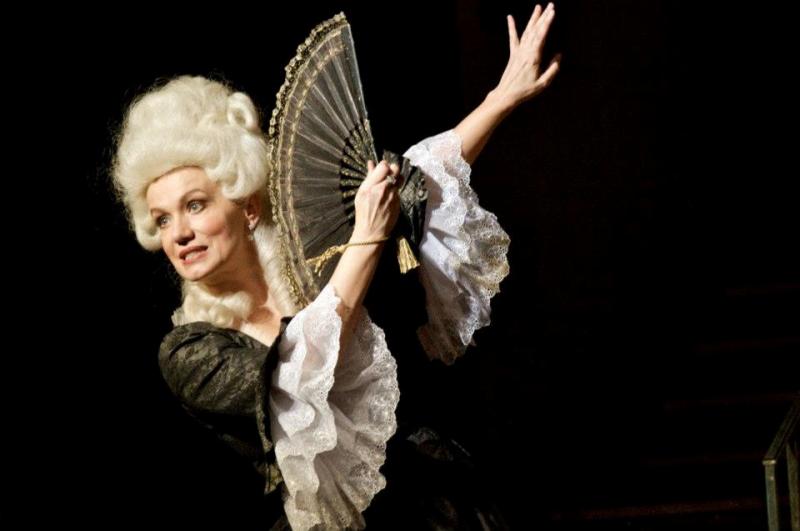 Goni go, chociaż dla mnie to pewnie nawet przegania, bo jestem jej wielką fanką – Joanna Trzepiecińska. Podstolinę gra tak jakby była to postać napisana dla niej. W ogóle cieszę się, że Teatr Polski tę aktorkę przygarnął, bo pamiętam, że jak chyba w 2009 r. szukałam jakiegoś spektaklu z nią, to pozostawało mi tylko oglądanie Rodziny Zastępczej. A Trzepiecińska to jest taki miks kobiecości, klasy i  talentu, że od czasu do czasu muszę na nią popatrzeć.
Na uwagę zasługuje jeszcze jeden fakt, zresztą mi z racji bycia logopedą, bardzo bliski. Zemsta w Teatrze Polskim jest bowiem na żywo tłumaczona ze sceny na język migowy. Tak dobrze czytacie. Na scenie, przed aktorami (chociaż kilka razy to dosłownie latali jej przed nosem, ale co ciekawe zrobione to było tak, że w ogóle nie przeszkadzało w odbiorze) siedziała sobie dziewczyna, która tłumaczyła wszystkie kwestie dla siedzących na widowni osób głuchych. Naprawdę piękna sprawa. Nie wiem kto to wymyślił, ale mam ochotę go za to przytulić. Bo to dosłownie takie emocje wywołuje w reszcie widowni. Rewelacyjny pomysł.
Z wrażenia aż prawie zapomniałam napisać Wam, że Daniela Olbrychskiego czasami zupełnie nie da się zrozumieć (i wcale nie jestem nienormalnym logopedą, pytałam – inni też nie rozumieli). A muzyka Piotra Rubika jest tak beznadziejna, że aż uszy bolą. Przaśny, serialowy dżingiel z klaskaniem (!), który nie wiadomo dlaczego oddziela poszczególne sceny od siebie. Koszmar.
Jednak pomijając te dwa szczególiki, które w całym dopracowanym spektaklu po prostu rzucają się wybitnie w oczy to mogę Was spokojnie na to wysłać.
Zwłaszcza, że strasznie mi się podoba kierunek w którym Teatr Polski w Warszawie w ten sposób zmierza (nie wiem czy wiecie, ale mają też od jakiegoś czasu spektakle z nianią dla dzieci). Jeszcze kilka lat temu to był chyba jeden z najbardziej omijanych przeze mnie teatrów w Warszawie, a tymczasem pod dyrekcją Andrzeja Seweryna (na którego w Zemście też warto popatrzeć) rodzi nam się jedno z najciekawszych miejsc na teatralnej mapie Warszawy. Oczywiście wcale nie piszę tego dlatego, że na jesieni będzie u nich premiera spektaklu na postawie tekstów Osieckiej i Przybory ;) I nie chcę zapeszać, ale zdaje się, że ich mój tekst o teatrach, które nie potrafią się promować raczej nie dotyczy. Oby tak dalej!
ps. Na spektaklu był też Andrzej z jestKultura, jeżeli chcecie przeczytać jego recenzję to macie ją tutaj. Repertuar teatru macie tutaj, natomiast zdjęcia użyte we wpisie są autorstwa Roberta Jaworskiego i pochodzą stąd.