Dziś będzie o błyszczeniu.
Oczywiście nie brokatem (mam nadzieję, że nie używacie).  Od zawsze w pielęgnacji i makijażu najważniejsze dla mnie jest żeby wyglądać świeżo i promiennie. Dlatego ten post jest o kosmetykach podkreślających naszą urodę w delikatny sposób.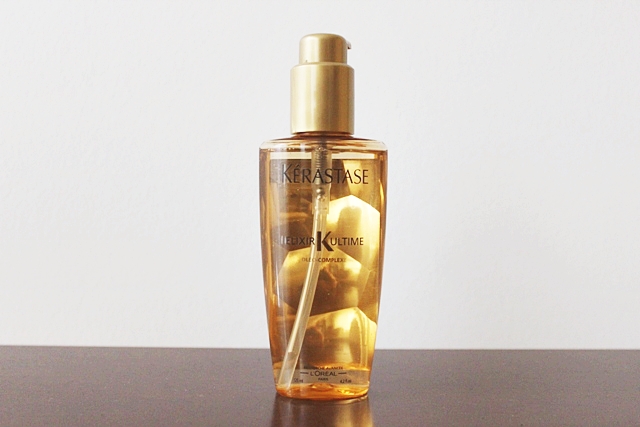 Elixir Ultime, Kerastase
Tutaj mamy przykład długofalowego działania wpisów na blogach. Na Kerastase zdecydowałam się pod wpływem postu o Fashionelki, który był opublikowany…jakiś rok temu. Od tamtej pory próbowałam różnych, tańszych produktów o podobnym działaniu. Jedne podobały mi się bardziej, drugie mniej. Na Kerastase zdecydowałam się dopiero wczoraj, bo wyszłam pierwszy raz w życiu od fryzjera bez podciętych końcówek. Zdecydowałam się zapuścić jeszcze trochę włosy, mam nadzieję, że nie będę wyglądać jak topielica i na pewno dam Wam znać co sądzę o tym produkcie.
RECENZJA
Używam tego olejku codziennie i z całą pewnością mogę powiedzieć, że jest najlepszy na świcie. Końcówki, pomimo że ich nie obcięłam, nie puszą się. Totalnie przebija wszystkie inne produkty tego typu, których używałam. Na włosy mojej długości wystarczy jedna kropelka, czasem (kiedy nie mam czasu latać rano z maską/odżywką) dwie. Włosy są wygładzone, błyszczące i nie szaleją pod wpływem naszego cudownego wilgotnego powietrza. Jedynym minusem jest dla mnie zapach tego produktu. Po nałożeniu go na włosy natychmiast znika, jednak wcześniej nie mogę się pozbyć wrażenia, że trochę przypomina tanie, męskie perfumy z lat 90.  Mam go na włosach na zdjęciach z imprezy Glossybox. Włosy układałam rano na lokówkę, potem byłam w pracy, gdzie muszę je mieć związane (najlepiej w luźny koczek, a nie kucyk). Nie używałam tego dnia lakieru, po prostu rozwiązałam włosy i przeczesałam je szczotką.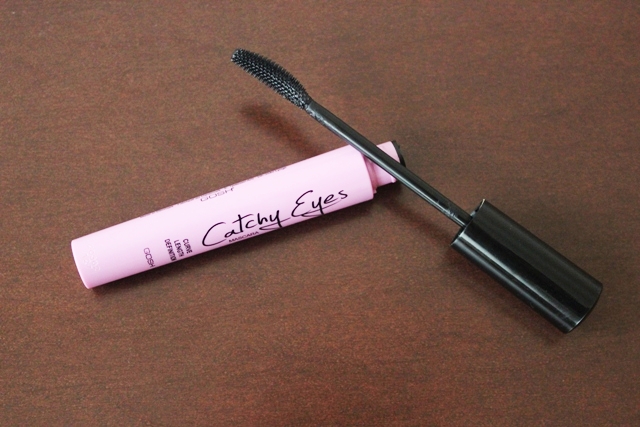 Mascara Catchy Eyes, Gosh
Tę maskarę dostałam w paczce z Warsaw Fashion Weekend i byłam do niej dość sceptycznie nastawiona. Nie znałam tej firmy, a nie chciałam zostać pandą w połowie dnia. Okazuje się, że niesłusznie. Tusz wydłuża rzęsy, troszkę je podkręca, nie oblepia ich(!!!) i nie sprawia, że wyglądają sztucznie. Nawet silikonowa szczoteczka jest bardzo wygodna. Świetny tusz do codziennego makijażu.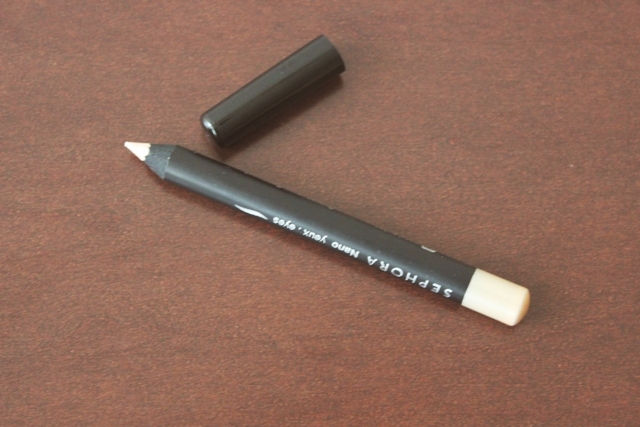 Kredka do oczu, Sephora, 09 pearl beige
Ta kredka budzi we mnie mieszane uczucia. Z jeden strony jest to najlepszy odcień kredki do oczu jaki znalazłam. Nienawidzę białych kredek, po prostu nienawidzę. A wyglądam w nich jeszcze gorzej niż nienawidzę. Kiedy znalazłam tę byłam bardzo uradowana. Jest bardzo jasnym połączeniem beżowego i złotego. Idealnie podkreśla się nią dolną linię oczu, ratuje mnie każdego dnia, którego zapomnę się wyspać, nie widać jej, nie rozmazuje się, trzyma się bardzo długo itp. Mam ją w zasadzie na każdym zdjęciu na blogu, które zostało zrobione w ciągu ostatnich dwóch miesięcy. Z drugiej strony niestety kredka jest strasznie miękka, koszmarnie się ją temperuje, często się łamie i przez to szybko kończy. Stanowczo powinna być dwa razy dłuższa.
Nie wiem czy jest to standard dla kredek z Sephory, bo to moja pierwsza. Używałyście jakiś innych?
Jeżeli czytasz tę notkę i wiesz, że jesteś kreatywna, to zapraszam na prosty konkurs tutaj. Konkurencja jest mała, bo pytanie jest abstrakcyjne ;)