Dawno żadne kosmetyki do pielęgnacji mnie tak nie zachwyciły. Stara Mydlarnia to odkrycie lutego!
Jakiś miesiąc temu spacerowałam sobie z Martą po Chmielnej gdy nagle trafiłyśmy na sklep Starej Mydlarni. Kojarzyłam tę nazwę, ale prawdę mówiąc myślałam, że to jakaś stara firma, która już dawno upadła.
W JAKIM BYŁAM BŁĘDZIE!
Przekonałam się o tym dość szybko, bo dosłownie zgłupiałam od ilości kosmetyków, która była tam do wyboru. I wszystkie przepięknie pachniały. Polecam nie wchodzić tam z karta płatniczą, tylko z konkretnie odliczoną gotówką, bo inaczej można zbankrutować.  Byłam wczoraj znowu i oszalałam po raz kolejny, a ponieważ kosmetyki działają obłędnie to przygotujcie się na więcej recenzji. Dziś trzy pierwsze trzy produkty.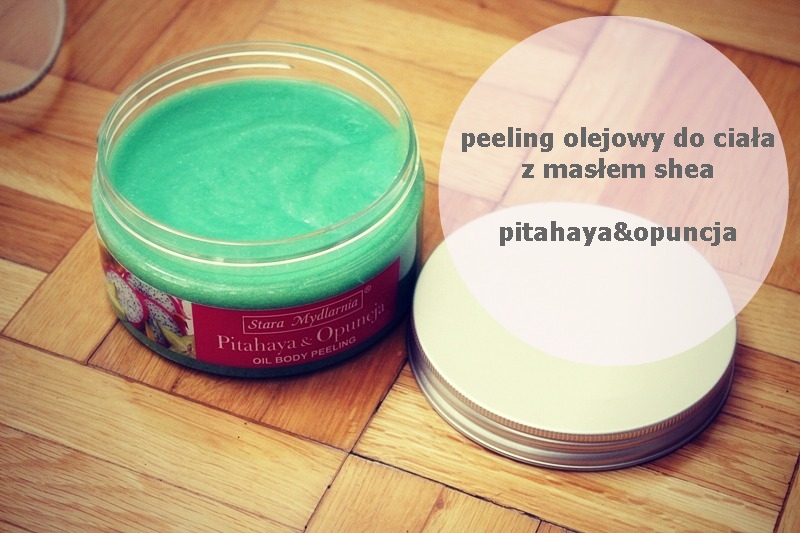 Zdecydowanie mój faworyt. Peeling daje o wiele lepszy (!) efekt niż taki profesjonalnie wykonany u kosmetyczki. Jest bardzo, bardzo mocny i niestety dla niektórych może być to przeszkodą w używaniu. Ja uwielbiam mocne ścieracze do ciała i od razu się w nim zakochałam. Dodatkowo dzięki temu, że od razu peeling połączony jest z olejem i ma w składzie masło shea mamy nie tylko cudownie złuszczoną, ale również nawilżoną skórę, która nie wymaga już dodatkowego balsamu. Efekt utrzymuje się przez kilka dni po użyciu. Nigdy nie miałam zimą tak ładniej skóry. Poprawia gładkość, kolor i nawilżenie. Wystarczy używać go raz na tydzień,  a w zależności od tego jak mocne ścieranie lubimy starcza na 6-8 razy i kosztuje 32 zł za opakowanie 300 ml (czyli to, które jest na zdjęciu).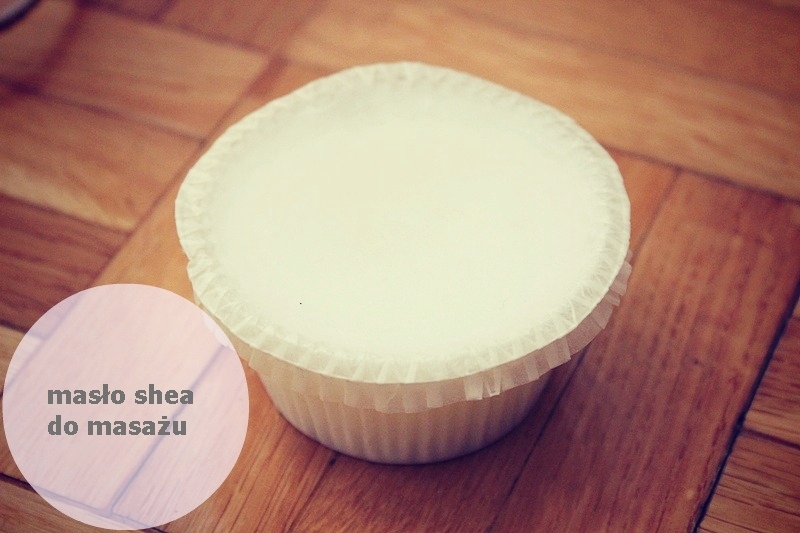 Kolejnym produktem, który mogę Wam polecić jest muffinka z masłem shea do masażu. Uwielbiam używać kostek do masażu jako balsamów do ciała. Masła shea nie trzeba nikomu polecać, jest mistrzem świata w nawilżaniu skóry (a już niedługo spodziewajcie się notki o tym czy działa podobnie na włosy). Stara Mydlarnia ma muffinki w przeróżnych zapachach do wyboru, ja zdecydowałam się na werbenę (kiedyś polecałyście mi ten zapach – dzięki, jest obłędny!) z trawą cytrynową. Pachnie jak dobra herbata. Masło rozgrzewam w dłoni, a potem wsmarowuję w ciało. Trochę to trwa i na pewno wymaga więcej czasu niż aplikacja zwykłego balsamu, ale efekt jest świetny. Skóra jest nawilżona, a nie tłusta. Jak już się pomęczymy z rozgrzaniem to masło wchłania się dość szybko, a efekt utrzymuje się spokojnie do następnego mycia. Dodatkowo zauważyłam, że regularne stosowanie ma zbawienny wpływ na długotrwałą kondycję suchej skóry zimą. Dziś specjalnie nie użyłam żadnego balsamu po kąpieli i stwierdzam, że poziom nawilżenia jest zadowalający i nie muszę biec się szybko czymś smarować. Oczywiście na pewno ma na to wpływ też regularne używanie peelingu i oleju o którym napiszę za chwilę. Kostka jest bardzo wydajna,trudno mi policzyć na ile aplikacji starcza, ale po miesiącu mam jeszcze 1/3. Kosztuje za 80 g. 21 zł, ale można też kupować dowolne ilości na wagę (tylko już nie mają takiego ładnego kształtu muffinek).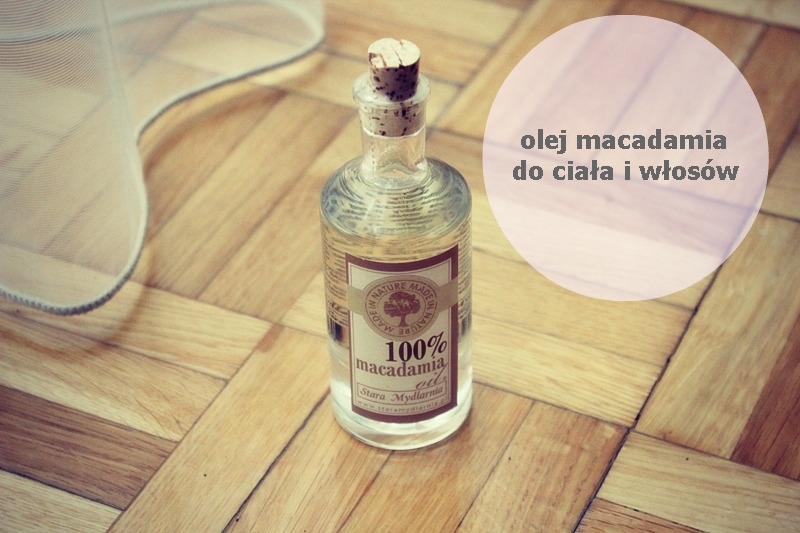 Ostatnim produktem, o którym chcę dzisiaj napisać jest olej macadamia. Stosowałam go najpierw do włosów i faktycznie poprawiał ich kondycję (świetnie walczy z suchymi końcówkami i trochę nabłyszcza), ale niestety przegrał z innym olejem, którego używałam równolegle (napiszę o nim już niedługo).  Za to rewelacyjnie sprawdził się jako olejek do ciała (rewelacyjne nawilżanie) oraz używany raz w tygodniu jako turbo nawilżacz do twarzy. Zostawiałam go na niej na noc, na to nakładałam krem do twarzy i w tym miesiącu obyło się bez profesjonalnego zabiegu kosmetycznego. Olej kosztuje 19 zł za 50 ml.
Generalnie – złuszczanie, nawilżanie, nawilżanie i nawilżanie – czyli to co kocham najbardziej! Znacie Starą Mydlarnie? Macie jakieś pytania dotyczące tych kosmetyków?